Have a custom bottled water question that is not answered below? Please Contact Us and we will be happy to help!
FAQs
Pricing
Bottled Events pricing is all-inclusive without additional setup fees or order minimums. Shipping and taxes are calculated during the checkout process. Use our free estimate tool for a quick, no-obligation price quote.
Timing
Orders ship out 10 business days after artwork is approved by the customer. Shipping requires an additional 1-5 business days depending on the ship-to location and shipping method selected. Use the map below to estimate the shipping time for your order. Although all orders are tracked, Bottled Events is not liable for missed event dates due to carrier error.
Return Policy
Due to the custom nature of our products, Bottled Events does not offer returns or refunds.
Orders ship out around 10 business days after artwork is approved. Once the order is in transit, Bottled Events is not liable and does not issue refunds for missed event dates due to carrier errors.
Returns or refunds will not be granted for missing an event date if the appropriate amount of time for order processing and shipping was not allowed. Bottled Events will make every effort to contact the customer when there is not enough time to complete an order. If you are unsure if your order will be received in time, please contact us with your event date and shipping zip code.
How many cases should I order?
For reception areas or trade show events, quantity will typically be 1 bottle per person.  For a wedding or party event, we recommend 2-3 bottles per person. One case of 24 bottles can usually cover 8-12 people.
Need a larger quantity than what's listed online?
Bottled Events can accommodate orders of any size. Simply contact us with your choice of bottle type, quantity, and the shipping zip code and we'll get you a quote right away!
Bottle Info
Bottled Events offers a selection of both ribbed and smooth styles in three sizes: 10oz, 12oz, and 16.9oz. All bottles are BPA-free and come with clear caps.
All our bottles are 100% recyclable. Smooth bottles use 50% less plastic made from polyethylene terephthalate (PET) and our ribbed bottle is made of recycled polyethylene terephthalate (rPET), also know as post-consumer PET.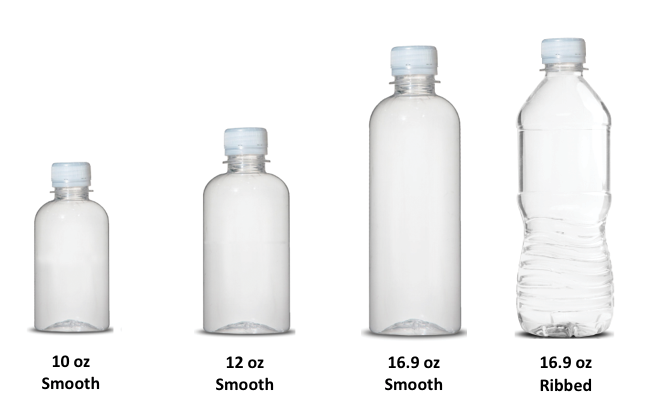 Water Info
Bottled Events guarantees the refreshing taste of pure, clean water by exclusively sourcing purified water from FDA-licensed manufacturing plants. Our water undergoes rigorous multi-step purification processes like reverse osmosis, micro filtration, and UV/Ozone treatment to ensure the purest water possible.
Label Info
Labels are digitally printed on a white, waterproof synthetic material. They can be fully submerged in water and not get soggy or destroyed. Our high-resolution labels wrap cleanly around our bottles leaving no gap between the ends of the label.
Bottled Events does not charge an additional label or artwork fee.