Impress your audience.
Premium personalized water bottles + budget friendly pricing = the clear choice to boost your brand!

View Our Product Lineup & Request Pricing Details: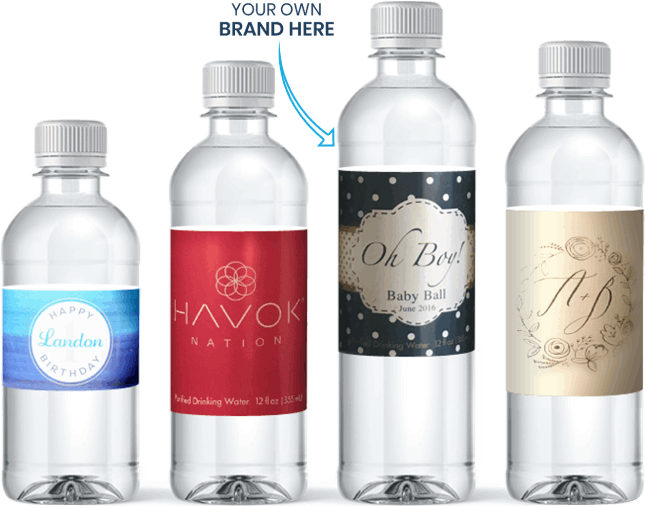 No Hidden Fees
We offer 4-case order minimums and NO set-up fees!
Actual Customer Service
Save time and stress with our team that treats your event as our own!
Quality
We use state-of-the-art purification technology you can (not) taste!
Request Quote
Why Bottled Events?
Bottled Events stands apart with low minimums and transparent pricing. Plus, our dedicated customer support team fights hard to make the process easy so your event or special occasion can run exactly on schedule!
Our personalized water bottles are a refreshing and memorable promotional item to enhance your event, business, or wedding!
"I had an open house that needed water done asap – Bottled Events delivered a great product with excellent customer service! Thank you!"

⭐️⭐️⭐️⭐️⭐️

-Kathryn, San Diego, CA
Easy Pricing
Order as little as 4 cases (96 bottles) to get started. No need to worry about setup fees or art fees – Bottled Events does not have any.
Because we believe up-front pricing is the best way to do business, Bottled Events pricing is published proudly on our website.
Buy direct and save today and put our affordable prices to the test!
Customer Service You Can Trust
Custom water bottles are a great way to deliver your message and Bottled Events takes pride in displaying your brand in the best light.
Our Custom Service team will be with you every step – confirming artwork, coordinating delivery, and answering questions along the way.
We have experienced poor customer service ourselves and remember how unhelpful that can be! Instead, Bottled Events uses a customer-focused support team that will treat your event like our own.
After all, Bottled Events wants to earn your trust and become your go-to solution for ALL your events!
Quality
Bottled Events' high-resolution custom bottled water labels are 100% waterproof and can be fully submerged in water.
Bottled Event's purified water undergoes rigorous multi-step purification processes including reverse osmosis, microfiltration, and UV/Ozone treatment to ensure the purest water possible.
"Ordering was simple, great communication from Bottled Events every step of the way!"
⭐️⭐️⭐️⭐️⭐️
-Marie, Las Vegas, NV
View Our Full Bottle Lineup & Request Pricing Details:
View Our Full Bottle Lineup & Request Pricing Details: